In the Bakery:
July's Baking Club Subscriptions
Summer is nearly here! Hurrah! Although it's been pretty miserable leading upto thus far. Plans to weed and tidy up the garden have been thwarted by horrendous rain and wind.
We're looking forward to brighter days, which means lunchtime picnics and walks around the fields which surround our bakery.
Despite the terrible weather, we actually created this month's bakes with a very special celebration in mind.
We wanted to celebrate PRIDE. Subscription Manager, Kayley, came up with these super fun, bright recipes that everyone can enjoy, and they truly look amazing!
*SPOILER ALERT*
If you haven't received your box yet, and you would rather savour the surprise, read no further, or hop onto this link and read this instead 😉
Bread Club
Rainbow Bagels
A few years ago my husband, who was working in London at the time, mentioned that he had spotted a bakery selling amazing bags of rainbow bagels – I was desperate to try one, and thankfully he brought a bag home for the weekend.
These were truly fantastic – the colours were so vivd and the texture remained unaffected – since then I'd been desperate to give these a go, so when Kayley suggested rainbow bagels, I was more than willing to get involved with the test bakes!
Deciding on the type of food colouring was the first hurdle – we have an abundance of gel colours in the bakery, however, we've also found great results in powder colours, which during baking we found retained a very vivid colour.
Here are a few tips and tricks to help with this bake:
The colour does take a lot of kneading – stick with it. It's so worth it, and it will come together.
Shaping the bagels is quite difficult at first, and you may find you have a visible 'join', after the first one or two, you'll find the knack.
Serve up with whipped cream and sprinkles for a sweet treat, or go savoury with cream cheese & smoked salmon for something really decadent.

Bakers Club
Rainbow Strawberry Pop Tarts
I have a standing order with my lovely friends in San Diego, for any of the Halloween Pop Tarts they can find in their local Walmart or Target.
I've always loved any vaguely American food, and Pop Tarts have always been one of my ultimate faves. Yes I know they aren't the healthiest food, but these homemade ones really aren't that bad!
The rainbow dough is so beautiful – and these make a really surprising and stand out treat for guests too.
We have a few tips to share to help ensure a successful bake:
If you're not a huge fan of strawberry jam, you could exchange this for anything you prefer – maybe even Nutella 😉
You will have to handle the dough a little more than you would usually chose to for a bake like this, but the texture is unaffected.
For real fancy Pop Tarts, you could use a different tool to 'crimp' the edges to produce different patterns.

Young Bakers Club
Rainbow Blondies
Often thought of as the Brownies less tasty cousin, I can absolutely assure you, our Rainbow Blondies are unashamedly delicious, beautifully bright, and actually pretty easy to make.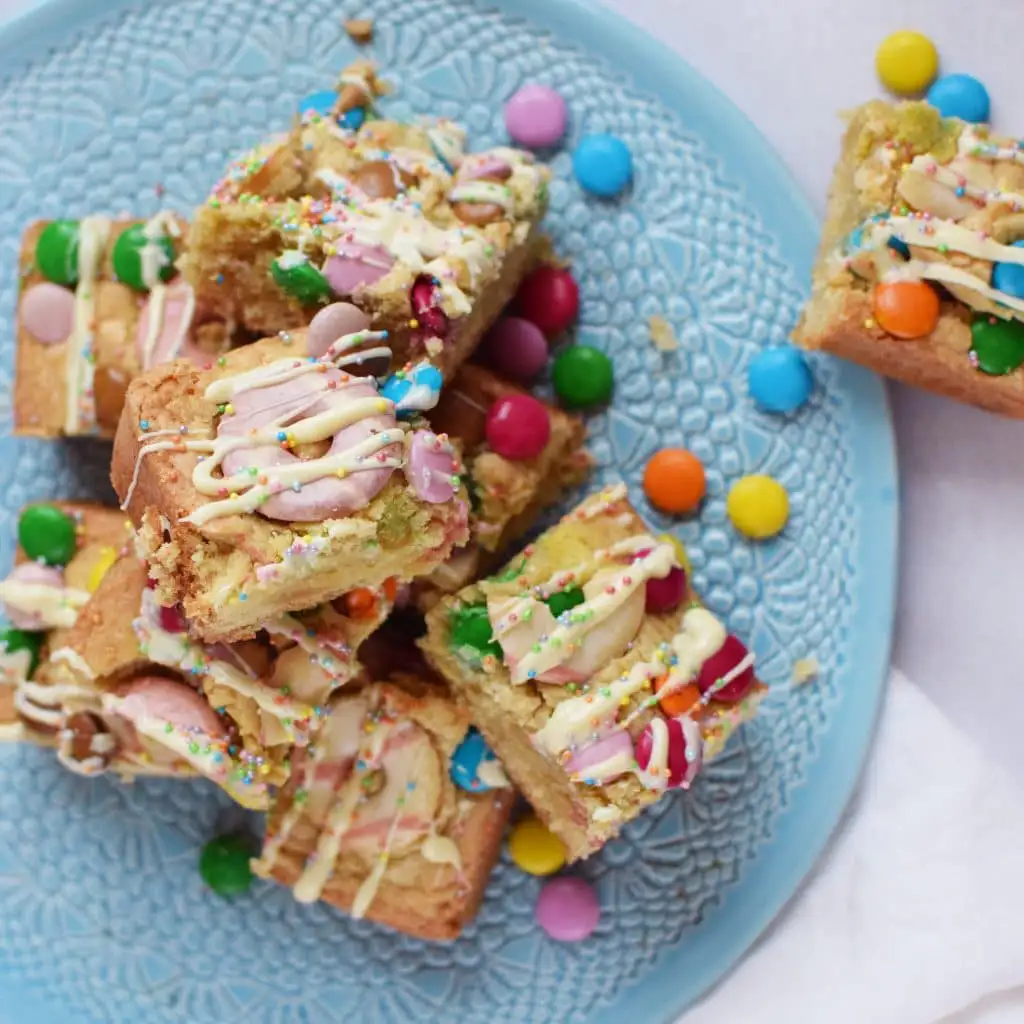 We have the following top tips to help with this months recipe:
Be very careful when adding the toppings before baking again, the batter will be hot.
If you'd like to ramp up the flavour, you could always swirl in some raspberry jam or Nutella prior to putting in the oven.
This is definitely the time to explore with fun toppings, so feel free to add or take away as you see fit, and with what you have in your store cupboard.

Please share images of your bakes and tag us!
@honeywellbiscuitco
#honeywellbiscuitco