We're giving the iconic pavlova a royal makeover just in time for the jubilee!
Make the evening before and leave in the oven overnight to set firm and you'll have a spectacular table centrepiece fit for a right royal shindig.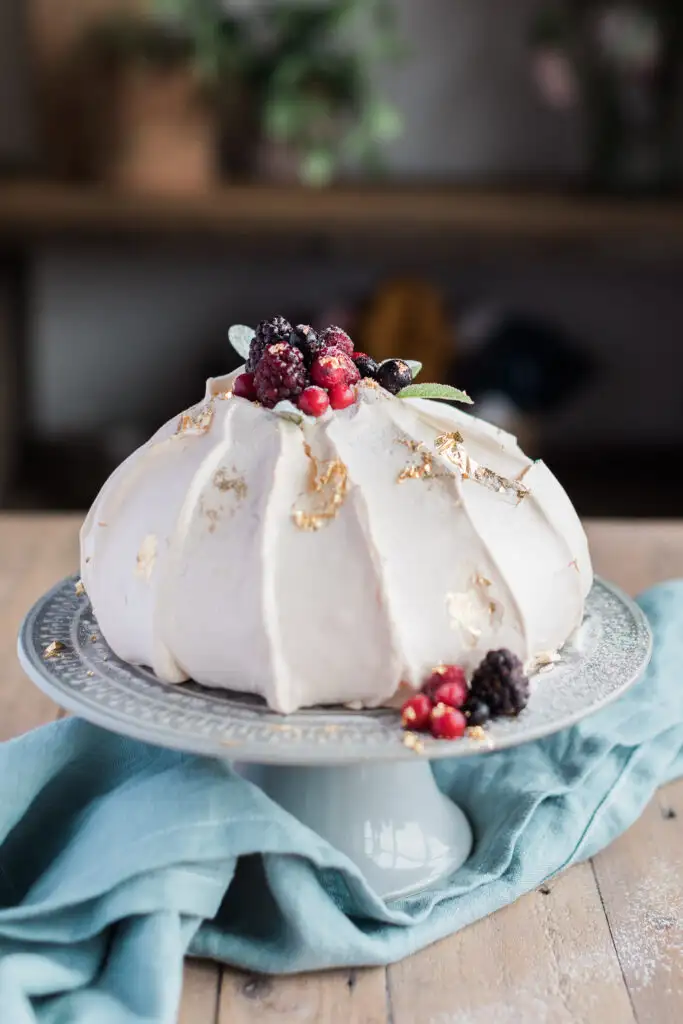 Ingredients
Method
Ingredients
5 Egg Whites
3 Tbsp Cold Water
240g Golden Caster Sugar
1 Tbsp Cornstarch
1 Tsp Vanilla Extract
1 Tsp Vinegar
A pinch of Salt
Filling
1 Pot of Double Cream
A selection of Berries for decoration
Gold Leaf or Edible Glitter – Completely Optional!
A few mint leaves for garnish
A dusting of Icing Sugar for the finale!
Method
Preheat your oven to 14o°c and cut out a large circle of greaseproof paper to lay the meringue onto.
In a bowl, whisk the egg whites with a pinch of salt together until the mixture starts to create stiff peaks. Add in the water slowly as you whisk, and gently pour in the sugar and continue to whisk until stiff peaks form when you remove the whisk.
Stir in the vanilla, vinegar and cornstarch to combine.
Using a large spoon, transfer the meringue to the baking paper. Build the meringue up to resemble a rounded sphere bringing your mixture up the sides to peak at the top.
Bake in a preheated oven for 1 hour until just starting to colour and reduce your oven temperature to 110 °c to cook for a final 45-50 minutes.
Leave in the oven to cool, or bake the night before and leave in the oven overnight before decorating.
Filling
Whip up some double cream in a bowl and add any additional flavours you might like – chopped strawberries work well!
Wash and pat dry smaller berries to place on the top, leaving them on their vines for an extra touch of glam! Add a little greenery to the edges with a few Mint leaves.
Gently press on a few wafers of gold leaf if you're feeling extra special, or dust with an edible gold glitter on the creases.
Don't panic about the cracks, they're inevitable!
A final dusting of icing sugar brings the Liz love together and creates impressive videos when filmed in slow motion!
Make it The Centre Piece For A Feast!
To accompany our Liz Lova, we whipped up some White Chocolate & Raspberry Macarons and finished with a selection of biscuit crowns to create a feast fit for a Queen!
Love as always,