In the Bakery:
June's Baking Club Subscriptions
We've been busy bees recently, with a month of honey inspired bakes!
Our bakery is based in the Northamptonshire countryside, actually in a converted Grain Store on farm land surrounded by rolling hills and wildlife.
It is idyllic, and at times helpful that very few people can hear our Subscription Manager, Kayley, shout expletives after a third test bake fail (these DO happen occasionally, and it's super normal – never feel disheartened by a baking fail).
We often take note of the wildlife that surrounds us during lunch breaks – and have a particularly soft spot for the wonderful bees!
We wanted to pay special attention to these hardworking creatures with some honey inspired bakes, but also by including a little surprise inside each of your boxes, to help increase the number of bees you might see in your garden!
*SPOILER ALERT*
If you haven't received your box yet, and you would rather savour the surprise, read no further, or hop onto this link and read this instead 😉
Bread Club
Seeded Honey Rolls
After a few months of fairly complex bread bakes, we thought it would be nice to opt for something a little more classic, delicious and homely.
When on Maternity Leave, I decided that baking bread would not only save money, but also help me to learn a little more about the art of bread, which in my personal opinion certainly does differ to the baking of cakes, or brownies etc.
I started to work on rolls – initially very simple white bread rolls, before starting to become a little more adventurous.
This recipe is in effect, an extension of a basic bread roll, but with more complex flavours, the addition of oats, and a crunchy texture from the seeds on top.
Here are a few tips and tricks to help with this bake:
When topping the rolls with your seedy mixture, you could always brush on rows with the egg wash to recreate fuzzy bumblebee stripes!
The dough is quite heavy, due to the oats, but luckily this requires less kneading than some of our previous bread recipes (yay! Rejoice, arms!).
If you have an appropriate tin, you could use the same dough recipe and quantities to make a delicious loaf, which would be perfect for breakfast, toasted and served with a tasty cinnamon or honey butter!

Bakers Club
Chamomile Loaf Cake with Honey Glaze
The inspiration behind this month's bake actually stems from an alcoholic drink a team member recently had and particularly (very much) enjoyed – a Chamomile Gin fizz, served with ice, citrus peel twist and a sprig of lemon thyme.
This flavour combination inspired this loaf cake, but we decided to top the surprisingly healthy tasting loaf with a delicious honey glaze.
We have a few tips to share to help ensure a successful bake:
If you're not a huge fan of Chamomile flavour, you could certainly switch this out for an Earl Grey teabag (this would be delicious!), or another aromatic tea.
Try not to open the oven more than necessary, as this can result in a collapsing cake! We learned this the hard way 😉
Because of the addition of whole-wheat flour, this isn't a classic airy sponge in terms of texture but a little more dense and hearty.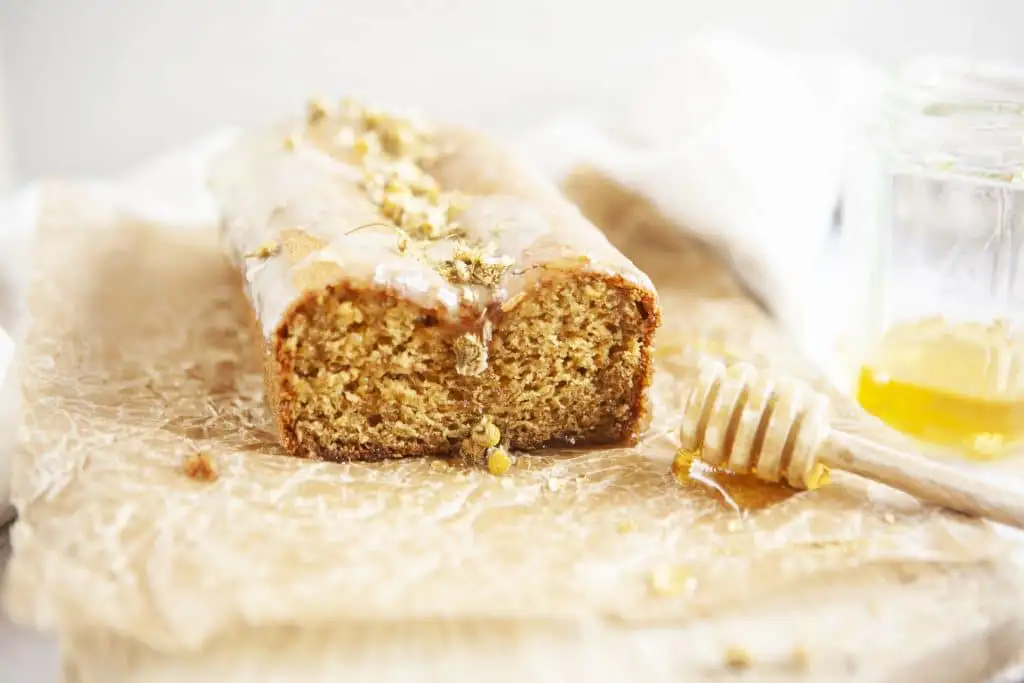 Young Bakers Club
Honey & Lemon Beehive Scones
Hands up if scones were the first thing you baked at school?! Me too!
We wanted to put a little twist on the classic scone, combining the ever popular flavours of lemon and honey.
This is a perfect recipe for children to really get their hands involved and enjoy baking – they have a delicate texture which can be enjoyed as they are, with their glaze, or halved with clotted cream, if you're feeling decadent!
If you don't have any cookie cutters, there's no need to worry – have a search in the kitchen to find some different sized circular rims and use those to cut your beehive scone shapes.
We have the following top tips to help with this months recipe:
Try to handle the mixture as little as possible, to prevent the butter melting too much.
If you have existing circular cookie cutters, you could use the ridged/scalloped edge to create a fun beehive look!
Be careful when handling the bee toppers, they do have a pointy end, and you may need to ask an adult for help!

Please share images of your bakes and tag us!
@honeywellbiscuitco
#honeywellbiscuitco